Posts for: October, 2021
By Bradford J. Rhodes D.M.D.
October 20, 2021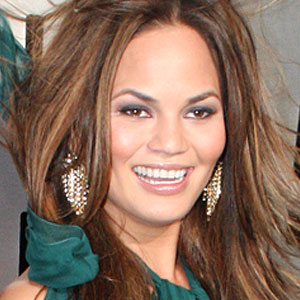 Inauguration night is usually a lavish, Washington, D.C., affair with hundreds attending inaugural balls throughout the city. And when you're an A-List celebrity whose husband is a headliner at one of the events, it's sure to be a memorable night. As it was for super model Chrissy Teigen—but for a slightly different reason. During the festivities in January, Teigen lost a tooth.
Actually, it was a crown, but once she told a Twitter follower that she loved it "like he was a real tooth." The incident happened while she was snacking on a Fruit Roll-Up (those sticky devils!), and for a while there, husband and performer John Legend had to yield center stage to the forlorn cap.
But here's something to consider: If not for the roll-up (and Teigen's tweets on the accident) all of us except Teigen, her dentist and her inner circle, would never have known she had a capped tooth. That's because today's porcelain crowns are altogether life-like. You don't have to sacrifice appearance to protect a tooth, especially one that's visible when you smile (in the "Smile Zone").
It wasn't always like that. Although there have been tooth-colored materials for decades, they weren't as durable as the crown of choice for most of the 20th Century, one made of metal. But while gold or silver crowns held up well against the daily grind of biting forces, their metallic appearance was anything but tooth-like.
Later, dentists developed a hybrid of sorts—a metal crown fused within a tooth-colored porcelain shell. These PFM (porcelain-fused-to-metal) crowns offered both strength and a life-like appearance. They were so effective on both counts that PFMs were the most widely used crowns by dentists until the early 2000s.
But PFMs today make up only 40% of currently placed crowns, down from a high of 83% in 2005. What dethroned them? The all-ceramic porcelain crown—but composed of different materials from years past. Today's all-ceramic crowns are made of more durable materials like lithium disilicate or zirconium oxide (the strongest known porcelain) that make them nearly as strong as metal or PFM crowns.
What's more, coupled with advanced techniques to produce them, all-ceramic crowns are incredibly life-like. You may still need a traditional crown on a back tooth where biting forces are much higher and visibility isn't an issue. But for a tooth in the "Smile Zone", an all-ceramic crown is more than suitable.
If you need a new crown (hopefully not by way of a sticky snack) or you want to upgrade your existing dental work, see us for a complete exam. A modern all-ceramic crown can protect your tooth and enhance your smile.
If you would like more information about crowns or other kinds of dental work, please contact us or schedule a consultation. To learn more, read the Dear Doctor magazine article "Porcelain Crowns & Veneers."
By Bradford J. Rhodes D.M.D.
October 10, 2021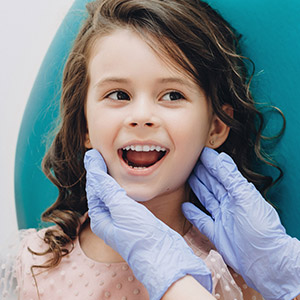 From birth to early adulthood, your child's teeth, gums and jaws develop at a rapid pace. And, for the most part, nature takes its course without our help.
But tooth decay can derail that development. The result of bacterial acid eroding enamel, tooth decay is the top cause for premature primary tooth loss in children. One particular form, early childhood caries (ECC), can rapidly spread from one tooth to another.
Many parents assume prematurely losing teeth that are destined to fall out soon anyway is inconsequential. But primary teeth play a critical role in the proper eruption of permanent teeth, serving as both placeholders and guides for those teeth developing just below them in the gums. A permanent tooth without this guidance can erupt out of alignment to create a poor bite that may require future orthodontics.
Being proactive about tooth decay lessens that risk—and the best time to start is when the first teeth begin to erupt. That's when you should begin their regular dental visits sometime around their first birthday.
Dental visits are an important defense against tooth decay. Besides routine dental cleanings, your child's dentist can offer various preventive treatments like sealants to stop decay from forming in the biting surfaces of back molars or topically applied fluoride to strengthen tooth enamel.
Daily home care is just as important in the fight against tooth decay. Oral hygiene should be a part of your child's daily life even before teeth: It's a good habit to wipe an infant's gums with a clean cloth after nursing. As teeth arrive, oral hygiene turns to brushing and flossing—perhaps the best defense of all against dental disease.
It's also important to watch their intake of sugar, a prime food source for bacteria that produce harmful acid. Instead, encourage a "tooth-friendly" diet of whole foods to keep teeth and gums healthy.
Even if they do develop tooth decay, there are effective treatments to minimize any damage and preserve affected primary teeth until they've served their purpose. By adopting these prevention strategies and prompt treatment, you can stay ahead of this destructive disease.
If you would like more information on preventive dental care for children, please contact us or schedule an appointment for a consultation.