Posts for tag: dental implants
By Bradford J. Rhodes D.M.D.
July 02, 2021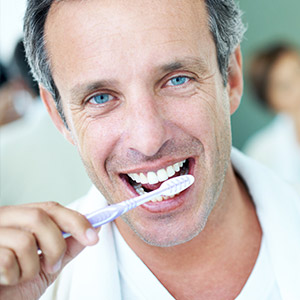 Your teeth can take decades of daily biting and chewing and not miss a beat. But they do have a nemesis, dental disease, which can easily get the upper hand. As a result, millions of people lose teeth each year to tooth decay and periodontal (gum) disease.
But while both the living tissue that makes up teeth and gums are susceptible to bacterial attack, the non-living materials in a life-like dental implant are impervious to disease. That being the case, you would think your implants wouldn't need as much hygiene as your other teeth.
But they still do. True, implants in themselves aren't affected by infection, but the bone and other tissues that support them can become diseased. This often happens with advanced cases of gum disease.
There is, in fact, a particular form of gum infection associated with implants called peri-implantitis ("peri"—around; "it is"—inflammation), which occurs in the gums around an implant. Once it starts, peri-implantitis can advance at a rapid pace.
This is because implants don't have the gum attachment of real teeth, which can fight and slow the advance of a gum infection. Because an implant doesn't have this attachment, any infection around it continues virtually unimpeded. If the bone supporting an implant becomes infected, it can weaken to the point that the implant fails.
But this dire scenario can be avoided with continuing hygiene and maintenance of the gum tissues surrounding the implant. You should brush and floss every day around implants to remove dental plaque, the bacterial film most responsible for dental disease, just as you do with natural teeth.
It's also important to keep up regular dental visits for cleanings to remove lingering plaque and tartar (hardened plaque). Your dentist may also notice and clean away any residual cement from the restoration, which can also cause gum inflammation.
And, you should promptly see your dentist if you notice any telltale signs of a gum infection, such as swelling, redness or bleeding, especially around implants. The quicker we diagnose and treat a case of gum disease, particularly peri-implantitis, the less likely it will endanger your implant.
If you would like more information on maintaining dental implant restorations, please contact us or schedule an appointment for a consultation.
By Bradford J. Rhodes D.M.D.
November 10, 2019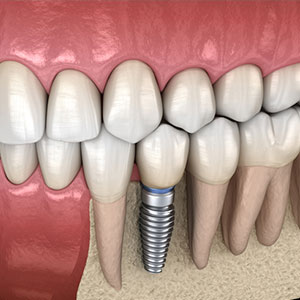 Among dental restorations, implants are the closest prosthetic we have to real teeth. They not only replace the visible crown, but the titanium post imbedded in the jawbone adequately substitutes for the tooth root. Because of their unique design, implants are not only life-like, they're highly durable and could potentially last for decades.
But while their success rate is remarkably high (more than 95% exceed the ten-year mark), they can fail. Ironically, one possible cause for implant failure is periodontal (gum) disease. Although an implant's materials are themselves impervious to disease, the tissues and underlying bone that support the implant aren't. If these natural tissues become infected, the secure hold the implant has can weaken and fail.
A gum infection usually begins with dental plaque, a thin biofilm of bacteria and food particles that builds up on tooth surfaces. Certain strains of bacteria within plaque can infect the gums. One particular form of the disease known as peri-implantitis starts as an initial infection and ensuing inflammation of gum tissues around an implant. The disease can quickly spread down to the bone and destroy the integration between the bone and the implant that helps keep the implant in place.
That's why it's important for you to keep the implant and the tissues around it clean of plaque, just as you would the rest of your natural teeth. This requires daily brushing and flossing around the implant and other teeth, and visiting your dentist regularly for more thorough dental cleanings.
You should also be alert to any signs of disease, especially around implants: gum redness, swelling, bleeding or pus formation. Because of the rapidity with which peri-implantitis can spread, you should see your dentist as soon as possible if you notice any of these signs.
Preventing gum disease, and treating it promptly if it occurs, is a key part of implant longevity. Preserving your overall dental health will help make sure your implant doesn't become a loss statistic.
If you would like more information on caring for your dental implants, please contact us or schedule an appointment for a consultation.
By Bradford J. Rhodes D.M.D.
June 28, 2018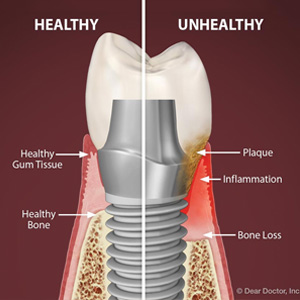 You've invested quite a bit in your new dental implants. And it truly is an investment: because of implants' potential longevity, their long-term costs could actually be lower than other restorations whose upfront costs might be less.
But to better ensure their longevity, you'll need to keep your implants and the natural tissues supporting them clean of bacterial plaque, a sticky biofilm that can cause periodontal (gum) disease. Although the implant itself is unaffected by disease, the natural tissues around it can be.  An infection could ultimately weaken the bone supporting the implant and lead to its failure.
Such an infection involving implants could advance rapidly because they don't have the natural defenses of the original teeth. Our natural teeth are connected to the jaw through the periodontal ligament, a collagen network that attaches to both the teeth and the bone through tiny tissue fibers. This connection also provides access to antibodies produced by the body to fight infection.
By contrast, we place implants directly into the jawbone. While this creates a very secure attachment, the implant won't have the same connection as teeth with the body's immune system. That means any infection that develops in surrounding tissues can spread much more rapidly—and so must be dealt with promptly.
Treating this particular form of gum disease (known as peri-implantitis) is similar to infections with natural teeth and gums, with one important difference involving the tools we use to remove plaque from them. While natural teeth can handle metal scalers and curettes, these can create microscopic scratches in the porcelain and metal surfaces of an implant and create havens for further bacterial growth. Instead, we use instruments made of plastic or resin that won't scratch, as well as ultrasonic equipment to vibrate plaque loose.
To avoid an infection, it's important that you brush your implants and surrounding tissues just like you would your natural teeth (be sure you use a soft-bristled brush). And keep up regular dental visits for thorough cleanings and checkups to stay ahead of any developing gum infection. Maintaining your dentures will help ensure they continue to brighten your smile for a long time.
If you would like more information on dental implants, please contact us or schedule an appointment for a consultation. You can also learn more about this topic by reading the Dear Doctor magazine article "Dental Implant Maintenance: Implant Teeth Must be Cleaned Differently."