Posts for tag: oral health
By Bradford J. Rhodes D.M.D.
March 25, 2019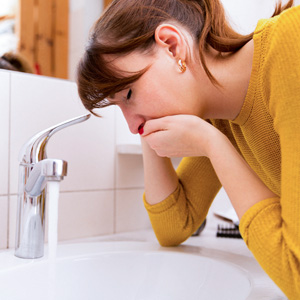 After your son or daughter's dental exam, you expect to hear about cavities, poor bites or other dental problems. But your dentist might suggest a different kind of problem you didn't expect—an eating disorder.
It's not a fluke occurrence—a dental exam is a common way bulimia nervosa or anorexia nervosa come to light. That's because the teeth are often damaged by the behaviors of a patient with an eating disorder.
Most of this damage occurs because of purging, the practice of induced vomiting after eating. During vomiting stomach acid can enter the mouth and "wash" against the back of the teeth. After repeated episodes, the acid dissolves the mineral content of tooth enamel and causes it to erode. There's also a tell-tale pattern with eating disorders: because the tongue partially shields the back of the lower teeth while purging, the lower teeth may show less enamel erosion than the upper.
Hygiene practices, both negligent and too aggressive, can accelerate erosion. Anorexics often neglect basic grooming and hygiene like brushing and flossing, which increases the likelihood of dental disease. Bulimia patients, on the other hand, can be fastidious about their hygiene. They're more likely to brush immediately after purging, which can cause tiny bits of the enamel immediately softened by the acid wash to slough off.
In dealing with a family member's eating disorder, you should consider both a short and long-term approach to protect their dental health. In the sort-term the goal is to treat the current damage and minimize the extent of any future harm. In that regard, encourage them to rinse with water (mixed optionally with baking soda to help neutralize acid) after purging, and wait an hour before brushing. This will give saliva in the mouth a chance to fully neutralize any remaining acid. Your dentist may also recommend a sodium fluoride mouth rinse to help strengthen their tooth enamel.
For the long-term, your goal should be to help your loved one overcome this potentially life-threatening condition through counseling and therapy. To find out more about treatment resources near you, visit the National Eating Disorders Association website at nationaleatingdisorders.org. Taking steps to treat an eating disorder could save not only your loved one's dental health, but also their life.
If you would like more information on eating disorders and dental health, please contact us or schedule an appointment for a consultation. You can also learn more about this topic by reading the Dear Doctor magazine article "Bulimia, Anorexia & Oral Health."
By Bradford J. Rhodes D.M.D.
November 15, 2018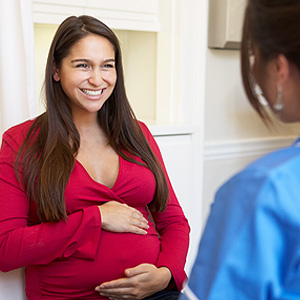 During pregnancy, your body isn't the only part of your life that changes. Instead of "me," you're now thinking about "us"—you and the new person growing inside you. Because of this change in focus you may be re-examining your current habits to see if any could adversely affect your baby.
If you're concerned your regular dental visits might be one of these, don't be. Both the American Congress of Obstetricians and Gynecologists (ACOG) and the American Dental Association (ADA) recommend continuing regular dental exams and cleanings even during pregnancy.
In fact, professional dental care is often more important during pregnancy. Because of hormonal changes, you may develop food cravings for more carbohydrates like sugar. Unfortunately, eating more sugar could increase your risk for dental diseases like tooth decay and periodontal (gum) disease.
These same hormonal changes can also make you more prone to gum disease. There's even a specific form of it known as pregnancy gingivitis that often occurs in expectant mothers. You may also experience "pregnancy tumors," large, reddened areas of swelling on the gums.
To decrease your risk of pregnancy-related dental disease, you should certainly keep up your regular dental visits—and more if you begin to notice signs like swollen or bleeding gums. And although it's usually best to postpone elective procedures like cosmetic dental work, you should be able to safely undergo any essential treatment for disease even if it requires local anesthesia. But do discuss any proposed dental work with both your dentist and obstetrician to be sure.
There are also things you can do for yourself during pregnancy that support your dental health. Be sure you're practicing good oral hygiene habits like daily brushing and flossing. And by all means eat a well-balanced diet and restrict your sugar intake if at all possible. Taking care of these things will help you avoid dental problems and help make this memorable time in your life as joyous as possible.
If you would like more information on caring for your teeth during pregnancy, please contact us or schedule an appointment for a consultation. You can also learn more about this topic by reading the Dear Doctor magazine article "Dental Care During Pregnancy."
By Bradford J. Rhodes D.M.D.
December 16, 2017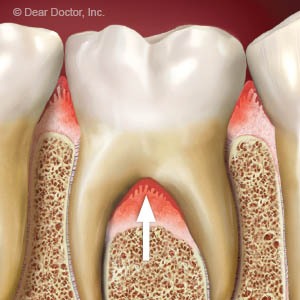 Periodontal (gum) disease causes more than simple gum swelling—this bacterial infection can harm and destroy your teeth's supporting structures, including the bone. Its aggressiveness sometimes requires equally aggressive treatment.
Gum disease usually begins with dental plaque, a thin film of bacteria and food particles on tooth and gum surfaces. Without proper oral hygiene plaque builds up with large populations of bacteria that can trigger an infection.
The growth of this disease is often "silent," meaning it may initially show no symptoms. If it does, it will normally be reddened, swollen and/or bleeding gums, and sometimes pain. A loose tooth is often a late sign the disease has severely damaged the gum ligaments and supporting bone, making tooth loss a distinct possibility.
If you're diagnosed with gum disease, there is one primary treatment strategy—remove all detected plaque and calculus (tartar) from tooth and gum surfaces. This can take several sessions because as the gums begin responding to treatment and are less inflamed, more plaque and calculus may be discovered.
Plaque removal can involve various techniques depending on the depth of the infection within the gums. For surfaces above or just below the gum line, we often use a technique called scaling: manually removing plaque and calculus with specialized instruments called scalers. If the infection has progressed well below the gum line we may also use root planing, a technique for "shaving" plaque from root surfaces.
Once infection reaches these deeper levels it's often difficult to access. Getting to it may require a surgical procedure known as flap surgery. We make incisions in the gums to form what looks like the flap of an envelope. By retracting this "flap" we can then access the root area of the tooth. After thoroughly cleansing the area of infection, we can do regenerative procedures to regain lost attachment. Then we suture the flap of gum tissue back into place.
Whatever its stage of development, it's important to begin treatment of gum disease as soon as it's detected. The earlier we can arrest its spread, the less likely we'll need to employ these more invasive procedures. If you see any signs of gum disease as mentioned before, contact us as soon as possible for a full examination.
If you would like more information on preventing and treating gum disease, please contact us or schedule an appointment for a consultation. You can also learn more about this topic by reading the Dear Doctor magazine article "Treating Difficult Areas of Periodontal Disease."