Posts for tag: braces
By Bradford J. Rhodes D.M.D.
July 22, 2021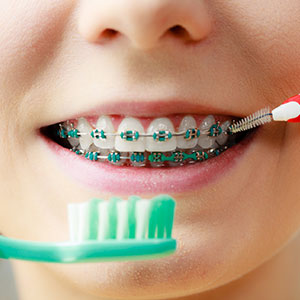 Wearing braces can pose challenges for your daily life and habits. One in particular is trying to keep your teeth and gums clean.
Braces or not, your oral hygiene needs to be thorough. Every day, your teeth accumulate a thin film of bacteria and food particles called dental plaque that can cause tooth decay or gum disease. It's essential to remove as much as possible each day by brushing and flossing.
That's a more difficult task with braces. The brackets and wires interfere with accessing many of your teeth's surfaces with a toothbrush or floss. As a result, braces wearers on average have a higher incidence of dental disease than non-wearers.
But while it's difficult to keep your mouth clean wearing braces, it's not impossible. Here are some tips and tools for making oral hygiene easier during orthodontic treatment.
A low-sugar diet. Besides items like chips that could damage your braces, you should also limit your consumption of foods and snacks with added sugar.  This carbohydrate is a primary food source for disease-causing bacteria. Limiting sugar in your diet can help reduce plaque buildup.
The right toothbrush. Brushing with braces is easier if you use a soft multi-tufted brush with microfine bristles. The smaller bristles maneuver better around the braces than larger bristled brushes. You'll still need to make multiple passes above and below the wires to be sure you're brushing all tooth surfaces.
Flossing tools. Traditional flossing using just your fingers can be next to impossible to perform with braces. But a tool like a floss holder or threader can make it easier to get between teeth. You might also try a water flosser that removes plaque from between teeth with a pressurized spray of water.
Dental treatments. Your dentist can give your teeth extra protection while you're wearing braces with topically applied fluoride to strengthen enamel. Using mouthrinses with an antibacterial ingredient like chlorhexidine may also reduce harmful bacteria.
Be sure you also keep up regular visits with your family dentist while wearing braces, and especially if you begin to notice puffy and reddened gums or unusual spots on your teeth. The sooner any case of dental disease is detected, the less impact it will have on your dental health.
If you would like more information on dental care while undergoing orthodontic treatment, please contact us or schedule an appointment for a consultation. You can also learn more about this topic by reading the Dear Doctor magazine article "Caring for Teeth During Orthodontic Treatment."
By Bradford J. Rhodes D.M.D.
April 01, 2018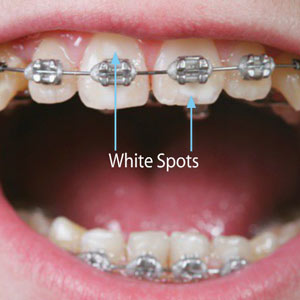 Finally — your braces are off! A look in the mirror reveals a straighter, more attractive smile. Unfortunately, it may also show something not so attractive — tiny, chalky spots on your teeth.
These "white spot lesions" are created by acid remaining too long in contact with the enamel, causing it to lose minerals at those places. The acid comes from plaque (a thin film of bacteria and food particles) that brushing and flossing fail to remove. Snacking on foods and beverages with added sugar or high acid content may also make it worse.
Besides their unattractiveness, these spots can lead to tooth decay — so it's important to try to prevent it. Limiting sugar-added snacks and acidic beverages to mealtimes will help, but the main key to preventing lesions is more thorough brushing and flossing.
Because of the braces, this can take longer to do than if you weren't wearing them. It's also more difficult maneuvering your toothbrush or floss around the orthodontic hardware. You can improve thoroughness and access by using a powered brush or one specially designed for use with braces. And, a water flosser that removes plaque between teeth with a pulsating spray of water is an effective alternative to string floss.
Even if (despite your best efforts) some lesions form, we can still treat them. Resuming normal hygiene practices after braces may take care of it — if not, we can strengthen the affected areas of the enamel with pastes, gels, or other topical fluoride applications. We can also use a technique called caries infiltration that injects tooth-colored resin (often used for cosmetic dentistry) beneath the white spot to harden it, and leave it more translucent in resemblance of normal enamel. If these fail to produce satisfactory results, we can use cosmetic bonding that permanently covers the tooth with resin or veneers.
It's best, though, if you can prevent the lesions while you're wearing braces. Besides daily hygiene, be sure to keep up regular dental visits for teeth cleaning. Your efforts will go a long way toward keeping your newly aligned teeth bright and blemish-free.
If you would like more information on dental care and hygiene while wearing braces, please contact us or schedule an appointment for a consultation. You can also learn more about this topic by reading the Dear Doctor magazine article "White Spots on Teeth during Orthodontic Treatment."
By Bradford J. Rhodes D.M.D.
August 25, 2017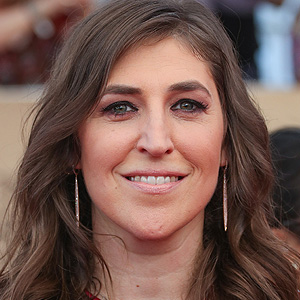 Mayim Bialik has spent a good part of her life in front of TV cameras: first as the child star of the hit comedy series Blossom, and more recently as Sheldon Cooper's love interest — a nerdy neuroscientist — on The Big Bang Theory. (In between, she actually earned a PhD in neuroscience from UCLA…but that's another story.) As a child, Bialik had a serious overbite — but with all her time on camera, braces were just not an option.
"I never had braces," she recently told Dear Doctor – Dentistry & Oral Health magazine. "I was on TV at the time, and there weren't a lot of creative solutions for kids who were on TV." Instead, her orthodontist managed to straighten her teeth using retainers and headgear worn only at night.
Today, there are several virtually invisible options available to fix orthodontic issues — and you don't have to be a child star to take advantage of them. In fact, both children and adults can benefit from these unobtrusive appliances.
Tooth colored braces are just like traditional metal braces, with one big difference: The brackets attached to teeth are made from a ceramic material that blends in with the natural color of teeth. All that's visible is the thin archwire that runs horizontally across the teeth — and from a distance it's hard to notice. Celebs like Tom Cruise and Faith Hill opted for this type of appliance.
Clear aligners are custom-made plastic trays that fit over the teeth. Each one, worn for about two weeks, moves the teeth just a bit; after several months, you'll see a big change for the better in your smile. Best of all, clear aligners are virtually impossible to notice while you're wearing them — which you'll need to do for 22 hours each day. But you can remove them to eat, or for special occasions. Zac Efron and Katherine Heigl, among others, chose to wear clear aligners.
Lingual braces really are invisible. That's because they go behind your teeth (on the tongue side), where they can't be seen; otherwise they are similar to traditional metal braces. Lingual braces are placed on teeth differently, and wearing them often takes some getting used to at first. But those trade-offs are worth it for plenty of people. Which celebs wore lingual braces? Rumor has it that the list includes some top models, a well-known pop singer, and at least one British royal.
So what's the best way to straighten your teeth and keep the orthodontic appliances unnoticeable? Just ask us! We'd be happy to help you choose the option that's just right for you. You'll get an individualized evaluation, a solution that fits your lifestyle — and a great-looking smile!
For more information about hard-to-see (or truly invisible) orthodontics, please contact our office or schedule a consultation. You can read more in the Dear Doctor magazine articles "Orthodontics for the Older Adult" and "Clear Aligners for Teenagers."