Dr. Rhodes and staff maintain the highest levels of accreditation and pursue ongoing education to stay abreast of the latest trends in dentistry.
---
Bradford J. Rhodes D.M.D.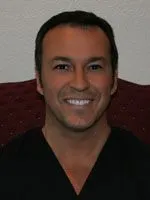 Objective
To provide a family practice that offers the highest quality dentistry in a gentle and caring fashion. We are concerned about your overall health and your comfort.
Services
Cosmetics
Orthodontics
Orthopedics
TMJ
Teeth Whitening
Invisalign
White Fillings
Root Canal Treatment
Extractions
Dentures
Implants
Painless Dentistry
Education
1994 Doctor of Dental Medicine, D.M.D.
Oregon Health & Sciences University
Portland, OR 97201
1990 Bachelor of Science, B.S.
Brigham Young University
Provo, UT 84601
1983 High School Diploma
Sam Barlow High School
Gresham, OR 97030
Experience
Upon gaining clinical experience at OHSU, I have owned and operated a full-service private practice since 1994.
Professional Affiliations
A.D.A. – American Dental Association
A.G.D. – Academy of General Dentistry
O.D.A. – Oregon Dental Association
M.D.S. – Multnomah Dental Society
I.A.O. – International Association of Orthodontics
A.A.F.O. – American Association for Functional Orthodontics
A.T.P.A. – Appliance Therapy Practitioner's Association
O.H.S.U. – Alumni Association Member
Personal
An Oregon native, Dr. Rhodes enjoys the outdoors, sports, and fitness. He stays busy with two married daughters and son-in-laws, including a grandson, while, still raising two children who are still at home. Dr. Rhodes and family are very active in their church.
---
Linda- Office Manager
Born and raised in Portland, Oregon. Linda is a mother to 3 boys and a grandma to 6 wonderful kids. Linda has been in the dental field for more than 30 years.
Stacey- Hygienist
Michelle- Front Office & Dental Assistant
Born and raised in Portland,Oregon. Michelle graduated from Mt. Hood Community College and Concorde Career College and has been in the field of dentistry since 2015. She loves to spend her spare time traveling and exploring the many wonders of the world.
Rachelle- Dental Assistant
Patty- Assistant
Born in Japan and raised in Southern California. Patty served in the US Air Force and has worked in the dental field since 2001. Patty is a busy mom to her two loving dogs, Maggie and Yubi. She is also busy in her church, loving nature and all its beauty and spending time with friends.